Video: DOD LS460W Review:
DOD LS460W Review by Tom Photoix: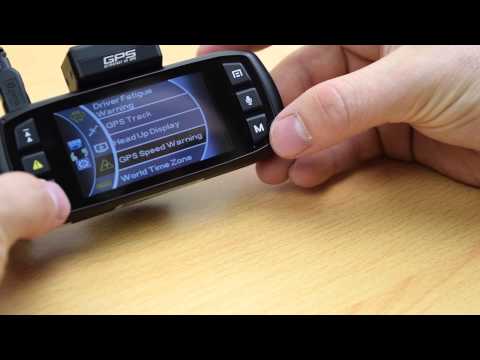 DOD LS460W Review By Kathleen San Martino. January 24, 2015:
Exceptional quality video and photo capture ability but manual could use improvement.
DOD LS460W package includes the camera, user manual, suction mount, adhesive tape mount, car power adapter, and DOD Player installation CD which is a user friendly program that can be used to playback videos. The memory card, HDMI cables for TV viewing, etc. are not included.
Before installation, I cleaned my windshield both inside and out. The recommended installation location is opposite the driver behind the rear view mirror. Unfortunately, since my windshield is angled in my Toyota Camry Solara Convertible, I was unable to get enough leverage to secure it there. Instead I centered it below my rear view mirror which turned out to be perfect. The recommended position of the camera is below parallel to capture the hood of the vehicle in case of impact and to reduce glare.
Since I wanted to familiarize myself with the menu without having to sit in a running car in the cold, I powered and initially charged the camera in my house in the 12-volt DC (direct current) receptacle of my Clore JNC300XL 'Jump-N-Carry' 900 Peak Amp Ultraportable 12V Jump Starter with Light, CEC Compliant. I actually spent several hours going through the manual and menu system and testing different features.
After I set up all the features I wanted, all I had to do was affix the camera to the windshield, plug it in, and go. The camera automatically turns on and starts recording and the video quality is exceptional. Unfortunately, all my files were way too large to attach to this review.
Below are the PROS and CONS.
PROS
– Setup is relatively easy. It was not easy for me, however, because I was going through the manual and menu settings with a fine tooth comb. Nevertheless, as long as the defaults are selected all that is needed is to insert the memory card, plug in the camera, select the language and date and time, and go. I did not even need to format my 16GB memory card and if I did, the camera has a format feature that can be used for cards under 64GB. I did have to format the 64GB one using an external program.
– The controls are user friendly.
– The camera is compact and has a relatively thin profile.
– The camera secures tightly in the dock. Too tightly in my opinion–see CONS.
– No shaking is visible in the recorded picture which surprised me.
– The power cable is extra-long so it can be routed through the headliner of the car. I couldn't do this since I have a convertible.
– The menu supports 12 languages – English, French, German, Spanish, Italian, Portuguese, Polish, Cestina (Czech), Greek, Norsk (Norwegian), Slovensky Jazyk (Slavac), and Chinese
– The camera has a loop record feature so that it overwrites the previous recordings when the disk gets full. Based on Amazon's site, a 64GB microSDXC card holds about 8 hours of recording so 16GB would provide about 2 recording hours. The loop record feature can be disabled and the files can also be locked during an accident so that they are not recorded over. There's also a G sensor option that can be set to the desired "shock" (low, high, etc.) level that will force the files to lock on impact. Of course the only way to know if this works is to get into an accident.
– The camera has Wide Dynamic Range (WDR) providing for a more panoramic style front view.
– GPS, speed, and time data are recorded if set.
– The LCD display will display mph (or kmh) while driving unless the screen saver is enabled. (See CONs below).
– Resolution is 1080P FHD (full high density) which allows for capturing video in low-light conditions
– The camera has three modes – video recording, photo (to take a still photo), and video playback (to see what you recorded).
– The camera has a motion activated feature that's for use when not in motion. This should not be set when driving. This only works as long as the camera has power either from a full charge, a running car, a connection into a battery pack such as the JNC 300XL, or a car whose cigarette lighter does not turn off when the car is turned off.
– The camera records sound if desired.
CONS
– The micros SD card is a bit difficult to insert and remove because the channel is recessed. I had to use my fingernail to insert and a letter opener to push down and remove it.
– I didn't like that the LCD display did not display a picture of what I was seeing the entire time. The reason I didn't like this is because I felt it was not recording. Instead the LCD switches over to display mph (or kmh) while driving unless the screen saver is enabled.
– Exposure to heat reduces lifespan of camera (as per manual warning). I believe this is to be expected.
– DOD-Tech's web site has no search capability so I found it difficult to do my research.
– There's no volume option for the audio capture; it is either on or off.
– The current locking mechanism that locks the camera into the suction (or adhesive) mount is almost impossible to press and remove. I was only able to remove it two times and that's with holding the suction mount in my left hand, while pressing the lever and manhandling the camera with my right to extract it. I eventually gave up doing this and decided to remove the suction mount with camera attached each time I parked the car. If I had used the adhesive mount, I would have had to leave the camera on my windshield in full view permanently.
– When using a 64GB card, I could not use the camera's format option. Instead there's a special formatting program I had to download online.
My major recommendations to DOD-Tech are to:
– Provide a complete manual with menu features organized the way they actually appear in the menu and the corrections stated above.
– Create an easily removal locking system from the suction cup dock. A magnetic clasp to attach the camera to the suction (or adhesive) mount would be much better.
In summary, this required lots of research on my end to understand what I wanted to know about this camera but which the manual did not explain. Although it took me longer to acclimate myself to its features for this review, the camera can be quickly setup as long as the defaults are chosen and a memory card less than 64GB is used. A memory card of 64GB requires an external program to format. I love the panoramic style view of the high quality recording and the fact that sound is captured if enabled. On the other hand, the manual is paltry and should be re-written. The price of this camera is a bit expensive but it does have some nice features and it works well in the "video recording" department. I felt like I was a live action photographer for a movie with the quality I got. Overall, I recommend this with reservation based on the CONs above.
DOD LS460W Review UPDATE January 26, 2015:
I heard back from Chris of DOD-Tech Technical support regarding my questions on "head up display" and "time lapse."
The review camera shipped with newer firmware so the menu option documented in the manual as "Standby Speed Display" was actually renamed to "Head Up Display" in the camera's menu. This option actually works in conjunction with the "Screen Saver" menu option.
As per Chris, here are some scenarios and the expected outcomes with both these settings that are not documented in the manual.
– If both 'Head Up Display' and 'Screen Saver' are off, then the screen will be on, and show live footage of the road.
– If 'Head Up Display' is set to 15 seconds and 'Screen Saver' is off, then the compass and speed will replace the live footage in 15 seconds.
– If 'Head Up Display' is off and 'Screen Saver' is set to 3 minutes, then the screen will display live footage, and will turn off in 3 minutes from the time it was turned on or when a button was pressed.
– If 'Head Up Display' is set to 15 seconds and 'Screen Saver' is set to 3 minutes, then the compass and speed will replace the live footage in 15 seconds, and then the screen will turn off after 3 minutes.
As per Chris, the 'Time Lapse' will speed up video footage depending on the setting you select. The larger the number, the faster the footage will be played back. For normal use, it is recommended to set this off.
UPDATE Feb 7, 2015 – My boyfriend finally saw the quality of both day and night video this dash camera takes and he was astonished! He is now considering one for himself.
UPDATE April 17, 2015 – I've been using this several months now and it is still working great. There are two odd issues I did encounter, however. First, after a few minutes my unit is set up to display my speed. What I noticed is that sometimes, it just goes back to showing the road and then will flip back to showing the speed later on. It's just a weird glitch. Second, sometimes I'll be fully stopped at a light or stop sign and the unit will show a speed of 1 or 2 mph when I'm actually doing 0 mph. This doesn't always happen but periodically I see this odd behavior. However, in the video you can actually see I'm not moving. Nevertheless, these two issues do not take away from how sensational this dash cam is. I am really in love with it.
Video: DOD LS460W Reviews: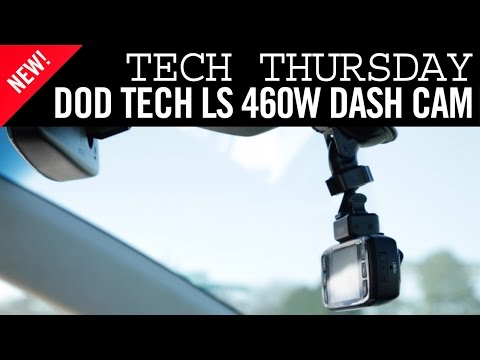 Video: DOD LS460W Review and Unboxing: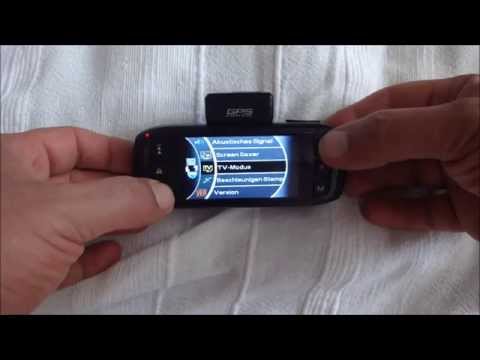 Video: DOD LS460w review with sample clips: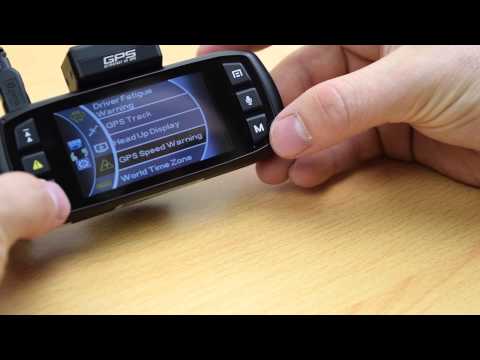 DOD LS460W Dash Cam Night – Town Driving – UK Video Clip: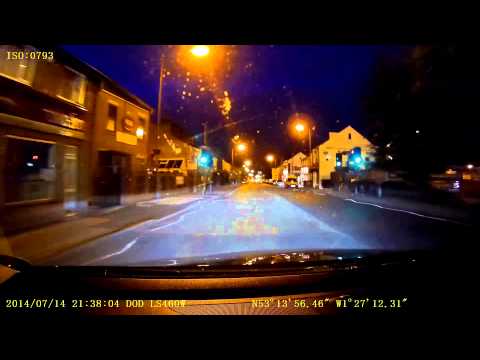 DOD LS460W Pitch Black Night Russia Video Clip:
DOD LS460W Dash Cam Night – Pitch Black – UK Video Clip: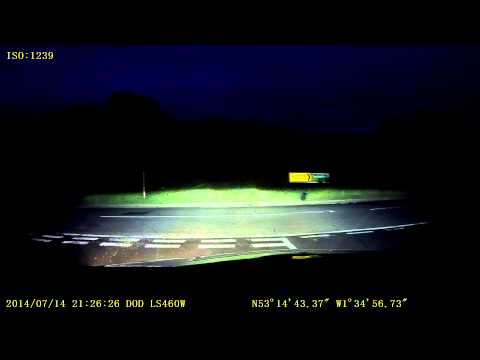 DOD LS430W vs DOD LS460W Video Clip: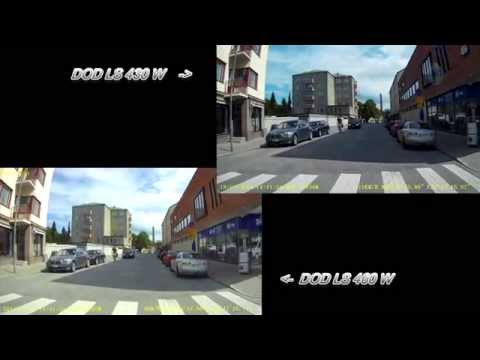 DOD LS460W Free Delivery Australia wide.
GPS included
The first and the only Dash Cam built with SONY exclusively designed sensor
Support ISO up to 3200
Automatic Time Calibration
HUD Compass Display
Smart over-speed warning
Advanced WDR Technology – Stunning Videos in Any Light